HALO, Inc. is a global recruitment agency specializing in AI/ IT engineers all over the world. Here is the interview with Mr. Park Keun Woo speaking honestly regarding his job-seeking process.
---
–Congratulations, Mr. Park for getting a job at Bravesoft, Inc. Please tell us how you feel right now.
Thank you. I'm very much excited to leap into the new world. It's been only a few days at the new office though I'm amazed by the passionate team members. The atmosphere at the office is friendly and workmates tell jokes around. When it's time to work, each member takes her/his work seriously and respect the company and its colleagues. I hope to become a core member of the company and contribute as an engineer soon.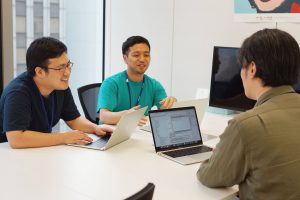 –Sounds great. We would like to discuss your job-seeking process. How was your previous job like? 
It was a contract based system developing company. I was there for over 5 years as an iOS engineer. I also did a Server-side development in my last year at the company. It was a great opportunity to collaborate with various industries and businesses. I've enjoyed exchanging ideas actively. 
–What made you consider changing your job?
The previous company was acquired by a huge recruitment enterprise. Board members and company structure were renewed. The Active discussion was welcomed before. However, stability is the priority and all the work became automatic and systematic under the new rule. These changes made me less motivated. I realized I want to keep challenging and work for the company welcomes open discussion. 
–Was there anything that made you worry in the process of job-seeking in Japan?
There were 2 my concerns.
First, I wasn't sure about my engineering skills. I often did small projects individually at the previous work. I didn't have a chance to compare how other engineers' levels are. I was told that my skill is poor by another recruitment agency before I met HALO, Inc. I was really upset when I got the feedback. 
Secondly, I was worried that if Japanese companies judge the candidates differently according to their nationality. I asked a Japanese native speaker to check my resume and documents. Even with the support, I'd struggled passing document selections.
–Have you ever received any advice to improve your resume and interview by the other recruitment agency?
Yes, I did. There was an hour meeting at the begging to explain why I'd like to get a new job. Unfortunately, after the one-time meeting, our communication had done by only emails. The agency kept sending me automated emails saying that "I am sorry to inform you that I couldn't help you getting a job this time" over and over. I was very much disappointed when I did a final interview with the company I really liked. I've waited for the result for about a month. After all the waiting period, I received the same automated emails from the agency telling me I didn't get it without any explanation. It made me feel like I'm in the machine-controlled system. 
–Then, you found HALO, Inc. Did you see any difference between agencies?
Yes, I do tremendously. HALO, Inc. changed my awareness of job seeking. I strongly remember that I was taught how to rewrite my resume. For example, how to display the experiences and skills on a resume. It was an eye-opener. It made me realized that I wasn't chosen because I'm not a Japanese but the way I present myself wasn't attractive enough.
Since then, I worked on my resume again. I evaluated what should be the focal point and highlight of my career. This process gave me more confidence as an engineer and who I am. It reminded me how much effort I made to achieve this moment.
— That makes us happy to hear. It's our pleasure to support fulfill clients' ambitions by connecting job-seekers and employers. We do remember the first time we met you. Our first inspiration was, "such a waste of talent". We understood you'd developed so many great applications. But we couldn't know that from your resume. 
Such a shame. After editing my resume with advice from HALO, Inc. I passed all the document selections from companies I've applied. That was surprising but clear evidence of what I needed; revise my resume. I understood that I have to present myself in a captivating manner. It is important for meeting new people in general. 
— That's true. How was the job interview?
The consultant encouraged me that I've been told "Passing document selection means that your skill is qualified. Believe in yourself".
At the interview with Braivesoft, Inc. I was impressed by how employees who discuss their own ideas actively. They delight to develop new applications for users. I instantly imagine myself working as a team member of Braivesoft, Inc.
HALO, Inc. is a recruitment agency specializing in AI/IT engineers. You have a great knowledge of IT engineering. You also understand who could be the best match for the company demand. I didn't have any doubts about the job interview. 
— Please tell us your honest feedback for HALO, Inc. 
I felt the humanity in HALO, Inc. support. You always were in my shoes. We had many meetings and spent time to deeply understand my personality and job perspective. You also fully understand the company side of information and their culture. It was like matchmaking of person to person.
"Humanity" is the key point of HALO, Inc. compere to other agencies' mechanical services. Communication with HALO, Inc. was done by Facebook Messenger and Zoom. Speedy responses for scheduling and after interview feedbacks. In addition, the consultant encouraged me again and again. It was like working as a team.
---
[After the interview]
Mr. Park told us "What could I do to show you my appreciation toward HALO, Inc supports?" This interview was held since his kind offer. We really appreciated it.
We are proud to introduce companies like Bravesoft, Inc. which value on personality, skills, and attitude towards work but no borders of any nationalities. We are thrilled to keep working on "Lights Your Future".